Shipping Options
UK Standard Delivery (2 - 3 Working Days) - £3.90
Ireland Delivery (5 - 7 Working Days) - £5.95
Europe including Cyprus (5 - 7 Working Days) - £11.10
REST OF THE WORLD (Up to 10 Working Days) - £14.50
Returns Policy
You may return any unused item in its original packaging with the tags still attached within 14 days of delivery for a full refund.
Please note that a full refund is exempt from any shipping costs. You will only be refunded for the item(s) being returned.
We cannot refund items that show any signs of wear or usage. We can only offer to ship the item back to you at your own expense.
You should expect to receive your refund no later than two weeks after returning your item. This includes the transit time for us to receive your return from the courier, the time it takes us to process your return once we receive it and the time it takes your bank to process our refund request.

Please return your item(s) with the original invoice to: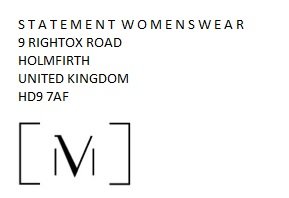 Please obtain proof of postage for your item to protect against loss/damage during transit. We cannot accept liability for lost or damaged parcels by your courier. The item remains your responsibility until it reaches our premises.
Should you have any queries regarding returning an item, please email us at info@statementwomenswear.co.uk with your order number and details about the product you would like to return and we will be happy to help you!